Harvest Celebrations: A Long Tradition of Seasonal Partying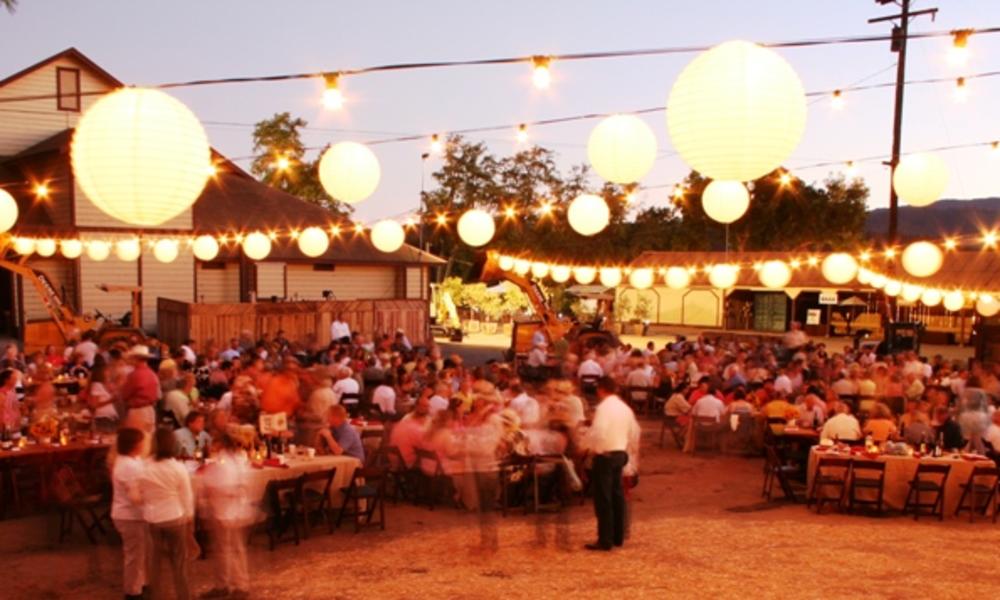 Since pagan times, rural villages have celebrated the end of harvest – not just with relief that the year's greatest labor was finished, but with a deeper spiritual connection to the earth. Scholars trace the tradition to "an animistic belief in the grain spirit or corn mother." Many farmers believed that a spirit resided in the last sheaf of grain to be harvested – to chase out the spirit, they beat the grain to the ground. Elsewhere they wove some blades of the cereal into a "corn dolly" that they kept until seed-sowing the next year. Then they plowed the ears of grain back into the soil, hoping that this would bless the new crop.
With its renowned basis in viticulture, the Napa Valley continues this tradition. But instead of "corn dollies," our harvest celebrations tend to focus on hearty food, live music and, of course, amazing wines. It's one of the best ways to experience the Valley, in the company of winemakers whose hands are still purple from crush.
Here's a list of a few local harvest parties. First come, first served!
Somerston Estate – Saturday, October 4, 6 pm to 9 pm
3450 Sage Canyon Road
, St. Helena
Cost: $95/person ($85 for wine club members)
Somerston Estate is hosting a lobster feed in the vineyards at its 1,600-acre estate and introducing its newest releases, including the 2011 Somerston Estate Cabernet Sauvignon.
V. Sattui Winery – Saturday, October 4, 6:15 to 10 pm
1111 White Lane
, St. Helena, (707) 963-7774
Cost: $105/person ($85 for wine club members)
Step behind the scenes of a real working winery and feel the passion and excitement of winemaking while you join V. Sattui's staff in welcoming the new vintage. Meet President Tom Davies and Director of Winemaking Brooks Painter and learn about the cycle of grape-growing, crushing, production, cork-making, barrel-building and more. There will even be an old-fashioned bare-footed "grape stomp," for those wanting to create the famous "I Love Lucy" scene for themselves.
Markham Vineyards – Saturday, October 11, 6 pm to 9 pm
2812 St. Helena Hwy. North, 
St. Helena, (707) 302-2039
Cost: $115/person ($100 wine club members)
Celebrate with Winemaker Kimberlee Nicholls and President Bryan del Bondio in Markham's historic stone cellar. Enjoy a wine reception upon arrival, featuring something special from the barrel that Kim's been working on, then stroll through the latest exhibit by renowned photographer Baron Wolman, Celebrating Woodstock. Next, savor a three-course dinner prepared by Tra Vigne and paired with Markham wines. Dance and enjoy live music from Suspects of Soul.
Holman Cellars – Saturday, October 18, 3 pm to 6 pm
190 Camino Oruga, 
Napa, (707) 287-7545
Cost: $80/person ($60 wine club members)
Holman Cellars is hosting a "BBQ and Blues" harvest party featuring live blues music,
 open-fire barbecue, lawn games, educational experiences with actively fermenting wines, and a ceremonial barefoot grape stomp. They will be pouring
 current releases, library wines, and a sneak peak at new releases, as well as wines by neighboring Bourassa Vineyards. Attendance is limited to 100 people.
Cornerstone Cellars – Saturday, October 18, 4 pm to 7 pm
6505 Washington Street
, Yountville, (707) 945-0388
Cost: $40/person ($32 for wine club members)
Cornerstone will host this afternoon event with live music, barbecue by Cochon, and, of course, Cornerstone wines.
Out in the Vineyard – Saturday, October 18, 1 pm
Peju Province Winery, 8466 St. Helena Highway, Rutherford, (800)446-7358
Cost: $99/person
Out in the Vineyard will be hosting the Gay Grape Stomp, accompanied by Peju Province wines and delicious barbecue. Teams of two will compete to see who can stomp and extract the most juice from a barrel full of grapes.
Napa Valley Museum and the Fourth-annual Howell Mountain Harvest Celebration – Saturday, November 1, 1 pm to 4 pm
55 Presidents Circle, 
Yountville, (707) 965-2665
Cost: $55/person
Who says you can't move mountains? The renowned wines of Howell Mountain are coming to Yountville. At this museum event, guests can indulge in the wines from different 18 Howell Mountain wineries and celebrate the 30th anniversary of the Howell Mountain AVA.