Insider Insights: Five Over-the-Top Romantic Things to Do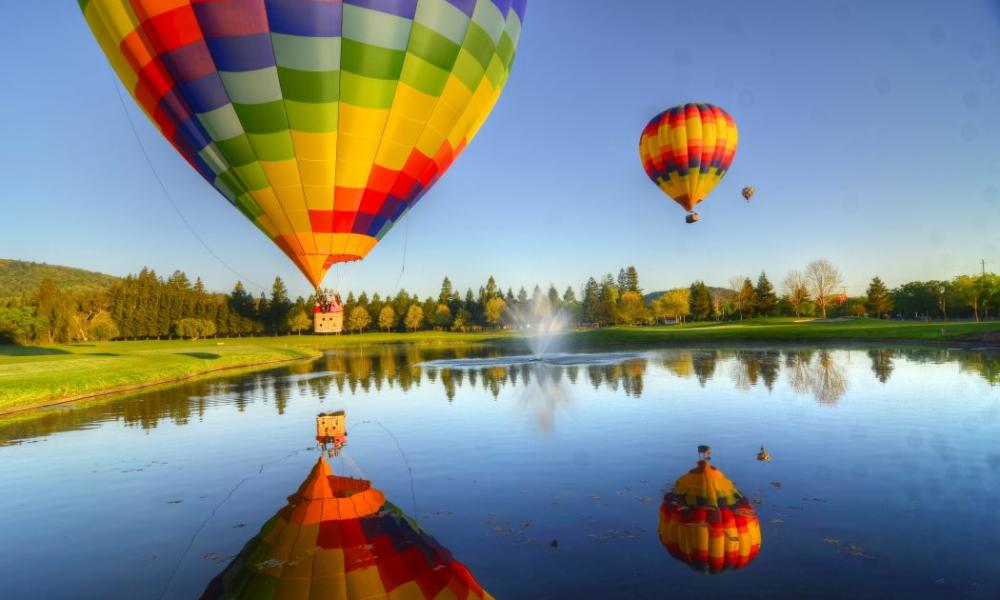 Juliette Christensen is the concierge on the opening team of Las Alcobas – a Luxury Collection Hotel that recently debuted in St. Helena – where she curates memorable, one-of-a-kind experiences for her guests. She came to the Napa Valley from an eclectic career in advertising, magazine publishing, and even acting in television and film. She then helped to open AVIA Napa in 2009 and was promoted to chef concierge during its purchase by Hyatt Hotels and its re-branding as Andaz. Since Juliette recently got engaged and married in wine country, we thought she'd be a perfect source for ideas on romantic things to do. "I've always been a romantic at heart," she says. "With a name like Juliette, I guess it's part of my nature!" Here are five of her go-to activities to set the scene for love.
Soar over the vineyards at sunrise. "Since I'm always planning other guests' trips, my then-future-husband, Karl, showed his romantic side by taking the lead with fun outings in and around wine country. There's nothing more special than floating over the vineyards in the early morning, watching the sun rise over the eastern hills. Many operators also offer a Champagne brunch after your ride. Try Balloons Above the Valley, Napa Valley Aloft, Calistoga Balloons, or Napa Valley Balloons."
Book a private winery tour on a mountain with a great view. "The Napa Valley has a number of mountain AVAs, all of them with potentially gorgeous views. On Spring Mountain, you can book a tour and tasting at Fantesca Estate and Winery, with vistas of the vine-covered hills from its tented patio and a beautiful 'secret' garden. Book a private tasting of its hand-crafted wines or a barrel tasting in the caves. Then read what your future holds on its unique fortune 'corkies.'"
Treat yourselves to an elaborate food and wine pairing. "At Swanson Vineyards, reserve an intimate, seated tasting with a skilled 'salonnière' in its French-inspired, salmon-hued salon. Decadent pairings include a bit of caviar, artisanal cheeses, and chocolates with Swanson's portfolio of delightful wines, accompanied by a lively discussion on the 'finer things in life.'"
Indulge in a little pampering. "Schedule a treatment at the Atrio spa at Las Alcobas, which specializes in artisanal treatments incorporating ancient healing techniques gathered from around the globe. Slip into a plush robe as you pause in the peaceful sanctuary, unwind in the mosaic-tiled steam room, then emerge with a gorgeous glow after a soothing massage incorporating essential oils from your own, personalized aromatherapy blend."
Get away from it all. "Curl up on your private terrace at Las Alcobas and watch the sun set over the vineyards of Beringer Vineyards. For an added element of romance, book a suite with an outdoor soaking tub and fire pit. The perfect end to an uber-romantic day!"
Cover Photo Credit: Napa Valley Balloons