Explore the New Arts District in Napa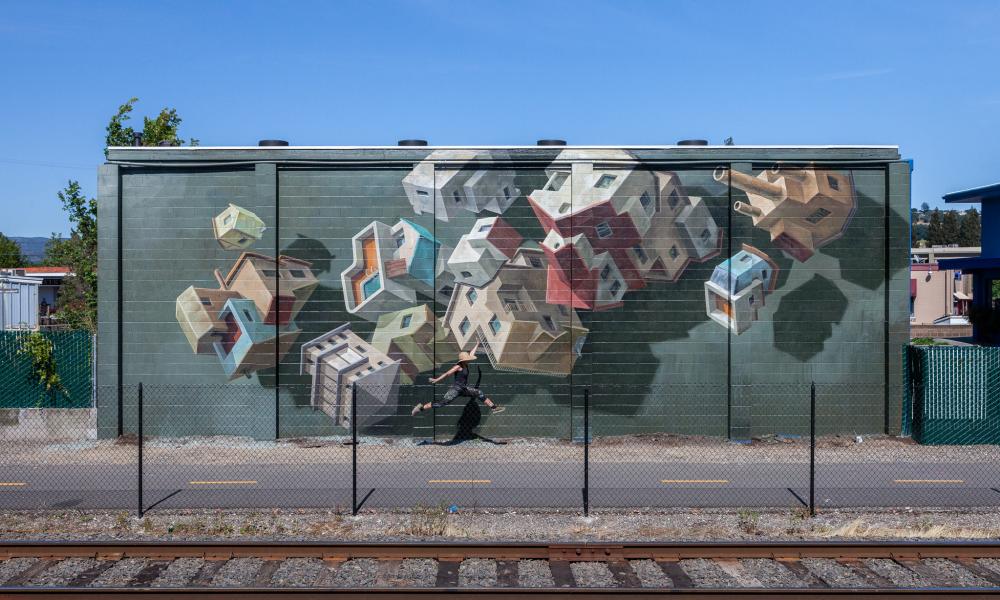 Launched in 2017, the Railroad Arts District in downtown Napa runs along a 1.7-mile portion of the Napa Valley Vine Trail and prominently showcases striking murals from selected global artists. Perhaps best experienced from a ride on the Napa Valley Wine Train or renting a bike to cruise the trail. RAD has re-energized Napa's commuter corridor and quickly become a landmark in the valley's increasing arts scene.
The first mural, "Knocking on Heaven's Door," was created by Bezt and Natalia Rak, two Polish artists known worldwide for their street art. The fanciful, 210-foot work, which was completed in January 2017, depicts a woman reaching toward a glowing butterfly.
The second work, "Chromadynamica," completed in March 2017, is a 100-foot colorful abstract, with pixelated colors contrasting black and white elements. The piece is by Argentinian-Spanish graffiti artist Felipe Pantone, whose art may be seen in the U.S. as well as Europe, Asia, and Australia.
The current installation's third mural, titled "Floating Napa," was completed in April 2017 by Barcelona muralist Cinta Vidal. Her work includes scenography, backdrops and murals that may be found worldwide. She refers to her Napa work as "ungravitied constructions."
Need more? Find other unique art-based adventures here and keep an eye out for new murals that will be coming soon.