Where to drink cocktails in Napa Valley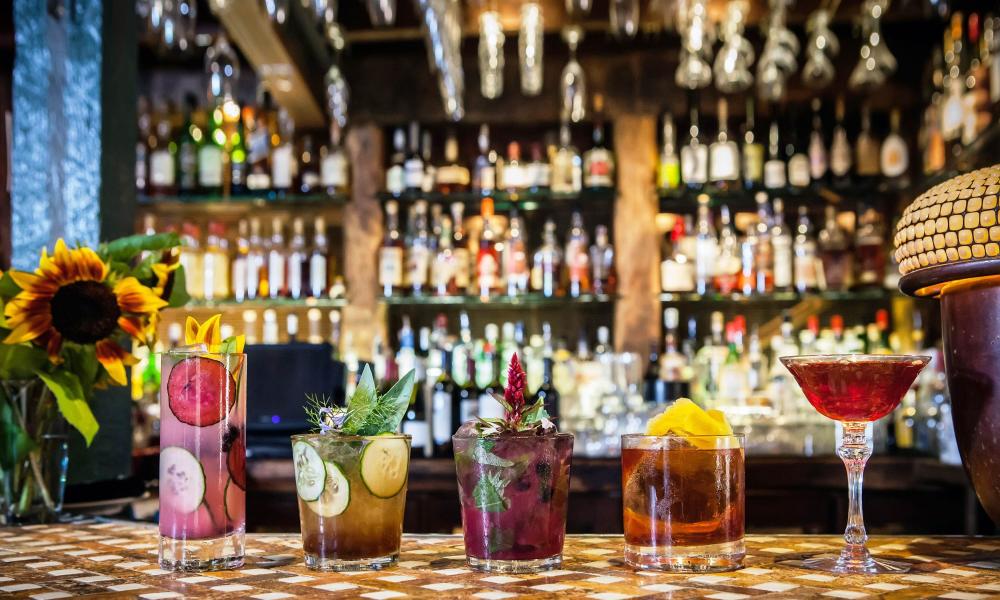 Now that the holiday sparkling wine is all gone – and you've recovered from the morning-after effects of same – you can turn your attention to other worthy beverages, right? Maybe 2016 is the year you discover a new favorite drink! To assist you in your efforts, we surveyed a few of our favorite Napa Valley restaurants, known for their artisanal cocktails. Herewith, a number of fresh new drinks, or unique spins on classic favorites.
At Oenotri in downtown Napa, there's the Maple Old Fashioned – Michter's Rye, maple syrup, splash of lemon and soda water, and garnished with brandied cherries and a slice of apple. Or try the Dark and Stormy: Gosling's Rum with ginger syrup, lime juice, and a splash of soda water. Or, if you feel like something less sweet, go for the BAB (Bourbon-Amaro-Bitters): Maker's Mark Bourbon, Nonino Amaro, and Oenotri's housemade orange bitters.
Goose & Gander (featured in the cover photo) in St. Helena is renowned for its creative cocktails. One of its most popular is the Bali Spiced Old Fashioned, made with St. George Breaking and Entering Bourbon, Bali Spice Simple Syrup, Regan's Orange Bitters, and Bitter Truth Orange Bitters, served on a big cube and garnished with orange spray and a twist.
TORC, on Napa's Main Street, reports that one of its most popular cocktails is made with Hangar One Vodka combined with fresh mint, fresh ginger, and lime. And at Angele, on the Napa Riverfront, you can order the Diane Lane (I'm assuming this is one of the actress's favorites?): vodka, lime juice, rosemary syrup, and blood orange soda, strained and served in a Mason jar garnished with a rosemary sprig.
Finally, who knew that bakeries served cocktails? Most don't, but at Butterscots Bakery, located in the Cairdean Estate complex just north of St. Helena, you're in luck. How about having that coffee cake with a Kahlua Latte – Kahlua, caramel, espresso, and steamed milk topped with whipped cream? Or a Blackberry Sparkler – blackberry simple syrup, and Prosecco, garnished with raw sugar and rosemary.
Want to stay in and do it yourself? Try this popular recipe from Goose & Gander:
Cucumber Collins 
1.5 oz Square One Cucumber Vodka
0.5 oz lemon juice
0.25 oz yuzu Juice
0.5 oz simple syrup
1 oz seltzer water
Combine all ingredients except seltzer in a mixing bowl and give them a quick shake. Add seltzer and pour unstrained into a Collins glass. Garnish with fresh and pickled cucumbers slid down the insides of the glass. Top with a spoonful of pickled huckleberries.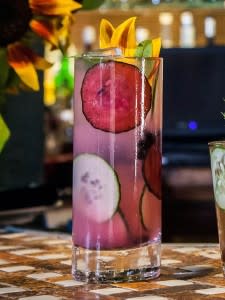 Or this one, from Angele:
Fist Full of Dollars
1.5 oz Jack Daniels
0.5 oz Averna
0.5 oz Cherry Herring
Splash of Amaretto
2 dashes Angostura Bitters
Stir all ingredients together and strain into a martini glass. Garnish with two brandied cherries.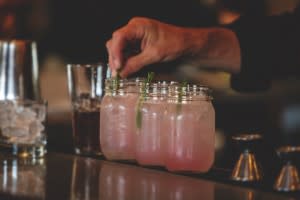 And here's one from Butterscot's Bakery:
Farmer's Folly
1.25 oz. Templeton Rye
0.3 oz. Chartreuse Yellow
0.3 oz Carpano Antica Formula
0.15 oz. Fernet Branca
Orange twist for garnish
See a full list of restaurants with amazing cocktails here.