Check Out the Napa Valley Welcome Center and Mercantile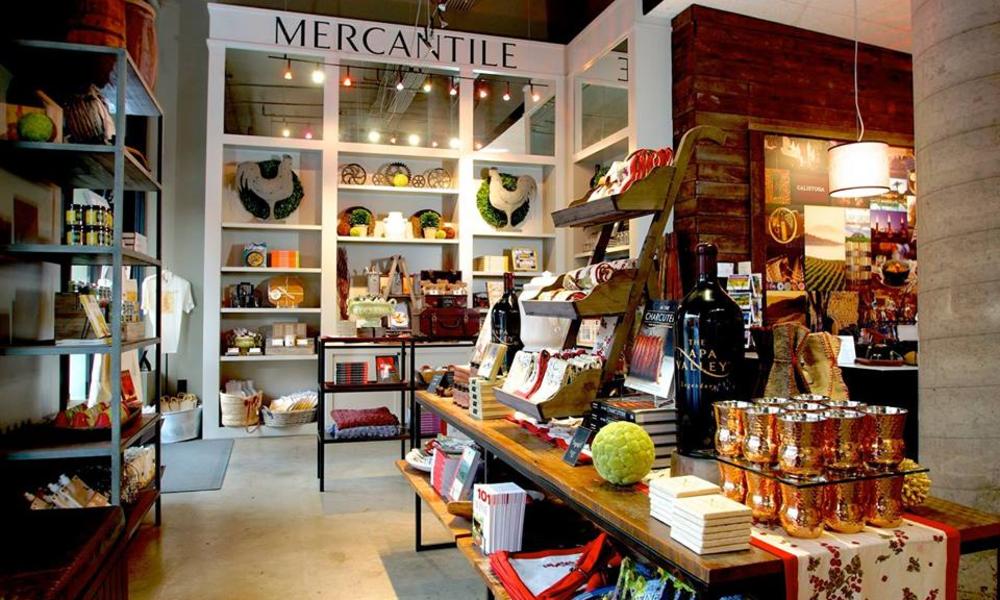 With literally thousands of wineries, hotels, and restaurants to choose from, planning a day (or weekend or even week) in the Napa Valley is no small task. Where to begin? Instead of spending hours on Trip Advisor or creating a spreadsheet of options, there's a simple alternative: Call, email, or drop in to the Napa Valley Welcome Center, conveniently located in downtown Napa, and talk to one of its 80 volunteers, each expertly trained in the vast hospitality universe of Wine Country.
"We can speak anyone's language, whether it's tech, talk, or touch," says Sarah Wallin, Senior Manager of Guest Services. "For those comfortable with tech options, we have ten iPads at the Center for our guests. And our website is mobile-optimized, so they can download the app onto their device and interact with us that way." For those who prefer talking to a live human, the Center's volunteers are available from 9 am to 5 pm daily to plan personalized itineraries and provide insider access to the thousands of guest-serving businesses in the valley. And for those who like a hands-on (touch) approach, there's a 140-page guidebook, map, and rack of more than 220 brochures. Guests also love spending time with the 8 x10' relief map, created from aerial photos of the Napa Valley, showing its 16 American Viticultural Areas (AVAs), San Pablo Bay, Lake Hennessey, and Lake Berryessa in three dimensions.
For visitors who want a more tailored, personalized itinerary, the Welcome Center also offers VIP Concierge services. These are often used by guests who come to the valley for large signature events like Flavor Napa Valley, BottleRock Napa Valley or the Napa Valley Film Festival. But anyone can request a bespoke itinerary, says concierge Lynn Jakubowski. "From hot-air balloon rides, kayak rentals, and Wine Train tickets to private blending sessions or a limo with a private tour guide, we can make any possible kind of booking or reservation," she says. One recent custom itinerary, she recalls, was a farm-to-table olive tour at Round Pond Estate, followed by a lunch on the terrace with olive-oil and wine pairings. Another had a high-low theme, beginning with a mountaintop tasting at CADE and ending with a subterranean tasting at Jarvis Estate.
Another good reason to visit the Welcome Center is the Mercantile, with its large selection of food-, wine-, and art-themed products – the perfect place to pick up a uniquely Napa souvenir or gift. Its current inventory includes locally handcrafted and produced artisanal items like Olive & Poppy jewelry, cookbooks from local restaurants, kitchen wares from Michael Chiarello's Napa Style line, spices and rubs from Clif Family Winery, table linens and aprons, tote bags, and postcards and note cards by local artists. "It's so great for locally inspired gifts and souvenirs, even the locals shop here," says Retail Operations Manager Barbara Crisman.
Whether you need a last-minute accommodation, want to plan a special itinerary, or just want to pick up some Napa Valley swag before heading to the airport, the Welcome Center and Mercantile should be high on your list.