The Napa Valley city of Calistoga isn't only famous for its mineral waters; it's famous for its one-of-a-kind mud, too.
Mud around here isn't your run-of-the-mill dirt-and-water variety. It's a magical mix of volcanic ash, mineral water, and a host of other naturally occurring elements in the soil. Over the years—and we mean centuries, people—indigenous settlers and subsequent settlers have hailed the mud for its anti-inflammatory benefits, and for how it helps skin conditions such as eczema and rosacea.
Nowadays, visitors to the north part of the valley turn to the mud for the same sorts of things.
But not all Calistoga muds are created equal. Different spas have created different mud formulas over the years, and each guards the recipe like Heinz guards the recipe for its famous ketchup. Some muds are better than others. It all depends on whom you ask.
Take the mud at Dr. Wilkinson's, for example. In 1947, John Wilkinson perfected his proprietary blend of mineral water, peat, and ash. Though Wilkinson himself died in 2004, the mud recipe is a closely guarded secret known only to his family and two others to this day. The recipe is used for the mud in the tubs at the resort spa today.
Martha Magana works in the Wilkinson's spa and has done so for the last 23 years. She won't confirm or deny if she's one of the select few who knows the recipe, but says the mud is a modern-day marvel.
"The buoyancy and heat of it; it makes you feel really good and helps with sore joints and muscle pains," said Magana, who joined the Wilkinson's team straight out of high school. "I had guests tell me they felt like they were back in the womb."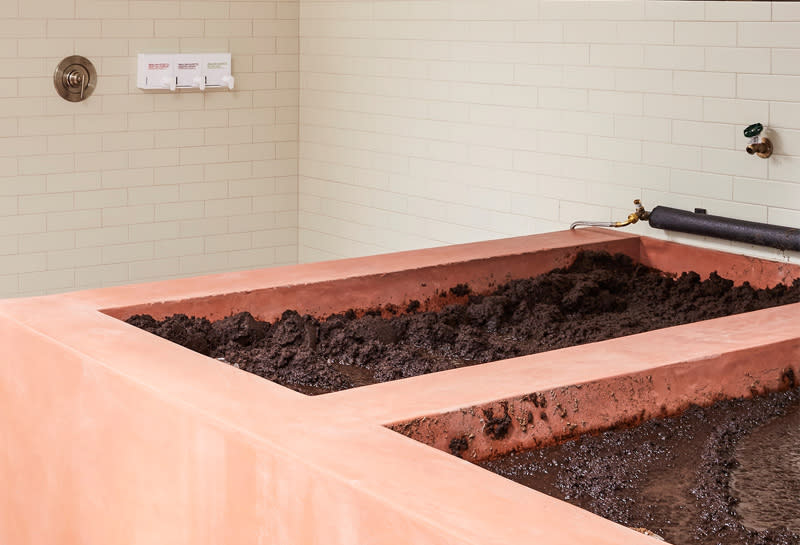 At other resorts in town, guests report similar sensations.
A massage therapist at Indian Springs Resort & Spa recounted one guest who likened the mud bath there to "floating on a cloud."
At Solage, an Auberge Resort, the spa has concocted a modern spin on the traditional Calistoga mud treatment that comprises three parts: The Clay, which is a thin layer of mud; The Waters, which is a series of showers and tubs to wash off the clay; and The Rest, during which guests sit in special chairs and listen to music and vibrations to relax them.
Word on the street is that the spa at the brand-new Four Seasons Resort and Residences Napa Valley also will incorporate some sort of Calistoga mug treatment into its list of offerings when the spa opens later this year.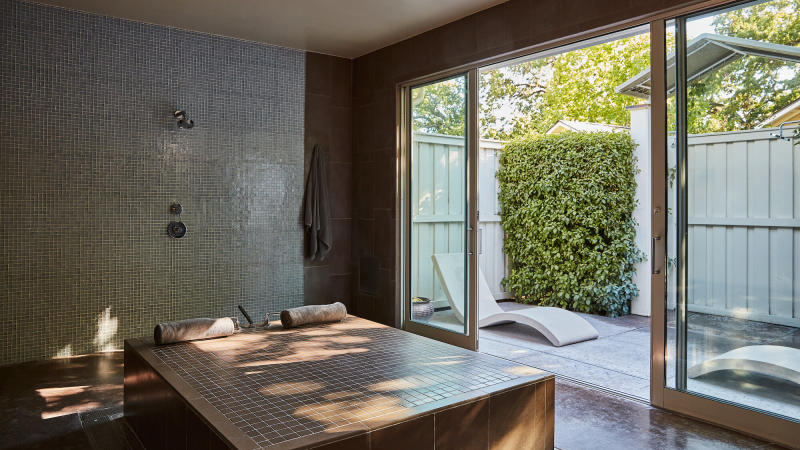 It's worth noting that most Calistoga resorts use the same mud for weeks at a time. Before you cringe and wonder if this approach is hygienic, consider this: Every treatment incorporates copious amounts of scalding hot mineral water, which effectively acts as a sanitizer. Specifically, the sulfur in mineral water mixed with the alkaline in volcanic ash kills all bacteria every time.
No discussion of mud in Calistoga is complete without looking way back in time—all the way back to indigenous peoples who lived here for tens of thousands of years before white folks came and claimed it for themselves.
Roughly 8,000-10,000 years ago, A'shoichamai (Northerner) or Wappo (Brave) Indians resided in Napa, and eventually established a northern village in Calistoga. A'shoichamai or Wappo villages contained sweat lodges; people in these tribes also partook in hot mud-bathing to eliminate toxins. This practice wasn't much different from the mud baths of today.
For those scoring at home, this means people have been taking mud baths in Calistoga for literally millennia.
Undoubtedly the recipes have changed over time. One thing that hasn't changed at all: The mud, of course. One could make the argument that mud has deeper history in Calistoga than wine. Of course, it's probably best not to argue at all, and book yourself a mud treatment instead.
In addition to the properties mentioned above, these Calistoga resorts feature their own spin on Calistoga's magical mud: 
Calistoga Motor Lodge (pictured in main image at the top) 
Roman Spa Hot Springs Resort
Calistoga Spa Hot Springs
Mount View Hotel & Spa
Golden Haven Hot Springs