Cairdean Winery Estate – a Destination in Itself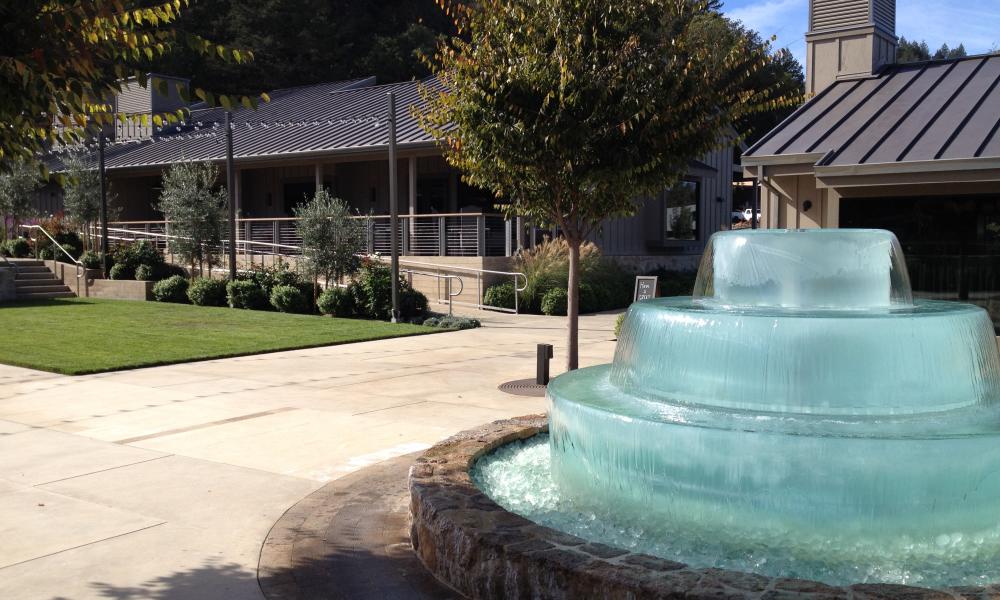 Say you've only got an hour or two to visit the Napa Valley (yes, that was bad planning), but you want to get a full taste of the Valley experience – where to begin? Well, you can begin and end your search at Cairdean Estate Winery, just two-and-a-half miles north of downtown St. Helena. You can do a little wine-tasting, have a great meal, do some shopping, and pick up some pastries to go, all from a single, campus-like venue.
If you're familiar with the former location of the St. Helena Outlets, you probably won't recognize it now. Cairdean has taken over the property (ignore the construction that's still underway) and converted it to an elegant, stylish complex that invites visitors to linger, sip, munch, and explore. (3111 St. Helena Highway North; 707-968-5434)
Cairdean Estate Tasting Room – is open, sleek, and elegant, pouring a selection of Cairdean's estate-grown wines, including an award-winning Syrah, Merlot, Sauvignon Blanc, Rosé, Fumé Blanc, and Chablis-style Chardonnay. (Open daily, 11 am to 8 pm)
The Farmer and the Fox – is the latest addition to St. Helena's top-flight dining scene. Under the direction of Chef Joseph Humphrey – formerly of Meadowood and Auberge du Soleil – the chic restaurant offers a menu that's a California interpretation of the classic British gastropub. And word is just in that it's earned a "Bib Gourmand" designation, the Michelin Guide's award for the best moderately priced restaurants. (Serves dinner nightly from 5 pm to 10 pm)
Butterscot's – is a gorgeous bakery, deli, and culinary market. In addition to selling puddings, scones, breads, cookies, house-made ice creams and sorbets, salads, sandwiches, and other savories, it has a beautiful selection of hostess gifts and kitchen items for sale. On the patio there is a large outdoor seating area with a fire pit for cooler days. (Open daily, 7 am to 5 pm.)
Redolent Mercantile – will open in December 2014 and feature an elegantly curated selection of rare, handmade finds, from artisanal Scotches to cashmere throws to winemakers' favorite French-made boots.