Best Places for Breakfast and Brunch in the Napa Valley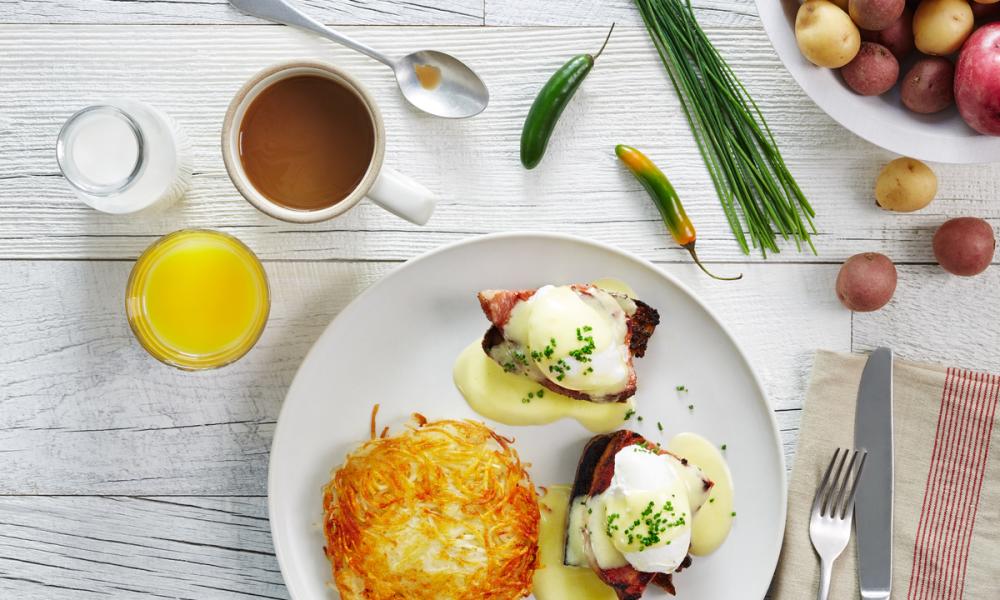 Here are a few Napa Valley standards, known for their excellent late-morning/early-afternoon fare:
Eiko's Sushi Restaurant in Napa does an excellent dim sum brunch on Sundays. Choose from Bulgogi Steak and Eggs, Pork Belly Hash, Shrimp & Congee, and other Asian-inspired dishes. Sundays only.
Oenotri, one of Napa's most popular Italian restaurants, calls brunch "Seconda Colazione," or "second breakfast." They offer a variety of seriously creative morning cocktails, an assortment of diabolically good Italian pastries, and a wide range of pizzas and antipasti. Weekend brunch only.
Tarla Mediterranean Bar & Grill, conveniently located in downtown Napa, features bottomless Mimosas, Fresh Crab Eggs Benedict, and Cured Turkish Pastrami Eggs Benedict, among other selections. Brunch on weekends only.
The Boon Fly Café offers a great list of "morning libations," including its Zesty Bacon Bloody Mary, followed by a wide selection of flatbreads, hearty sandwiches, and breakfast fare like griddle cakes, chilaquiles, and breakfast burritos. Besides weekend brunch, also serves breakfast daily from 7 to 11am.
The Kitchen Door, a lively family spot in the Oxbow Public Market, offers an eclectic menu including Beef Carpaccio, a breakfast Kobe Burger, and Buttermilk Pancakes with Strawberry Coulis and Lemon Curd. Weekend brunch only.
1313 Main in downtown Napa offers such varied tastes as Potato Latkes with cured salmon, Chicken and Waffles, and Lobster Benedict. Weekend brunch only.
Redd, in Yountville, does wonders with Yellowfin Tuna Tartare, Steamed Pork Buns with Hoisin and Vegetable Salad, and a Hangtown Fry Omelette. Weekend brunch only.
The Restaurant at Auberge du Soleil is the place to go for a special-occasion morning, with its million-dollar views of the valley and its uber-rich caloric spread. The menu includes a specialty cocktail, a selection of house-made breads, and such entrees as a Maine Lobster Omelet and Seared Ahi Tuna with a Crispy Soft Egg. Besides weekend brunch, it also serves breakfast daily from 7 to 11am.
Archetype in St. Helena features such eye-openers as a Buttermilk Belgian Waffle with Banana Pudding, Liberty Farm Duck Confit, and Lemon-Ricotta Pancakes with Blueberry Syrup. Weekend brunch only.
Calistoga Kitchen, with its outdoor patio, is a great choice for a warm spring day. Try the Duck Egg and Bacon Sandwich or the French Toast of cinnamon-walnut bread with fresh berries. Brunch served Sundays only.
Café Sarafornia doesn't serve brunch per se, but does serve breakfast all day. It's a classic Calistoga funky diner with a great assortment of egg dishes, legendary Huevos Rancheros, and a Spinach Portobello Benedict with Citrus Bechamel sauce. Breakfast served daily.
Also, don't miss these spots: In downtown Napa, try Napa General Store, Grace's Table, ABC Bakery, Model Bakery (also in  St. Helena), and Jax White Mule Diner. Or go north for Brix and Bouchon Bistro in Yountville, and Evangeline and Solbar in Calistoga.
Photo credit: Boon Fly Cafe at The Carneros Inn