Altitude Adjustment: Napa Valley's Favorite Hiking Trails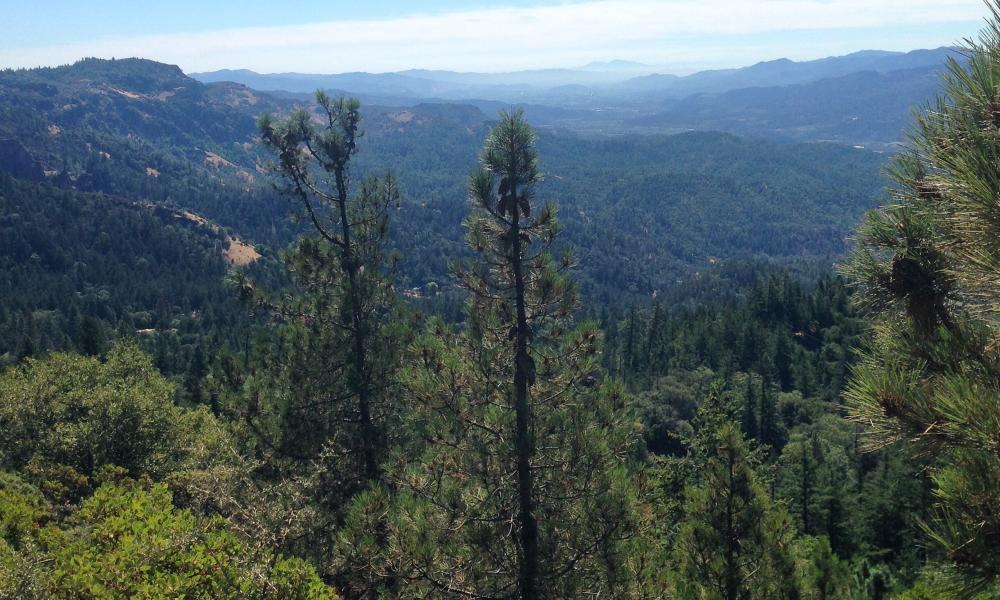 There are plenty of reasons why you might want to take a hike during your stay in the Napa Valley. Working off those 2,500 calories you consumed at dinner last night. Finding a glorious view after sitting inside one too many tasting rooms. Dealing with that hangover. Or just spending some quality time with Mother Nature.
Whatever your reason, the valley has a long list of beautiful trails for every preference and skill level. I recently talked with Eric "Bam Bam" Barnett, the Trail Development Coordinator for the Napa Branch of Tuleyome, an advocacy-oriented nonprofit organization that works to protect the wild and agricultural heritage of this area. Since he's spent time actually building and maintaining some of these trails, I figured he'd know better than anyone about the best options for local hiking. Here are a few of his favorites:
The Palisades Trail is one of the most popular trails in Napa County. It's about a ten-mile hike if you follow it to the Oat Hill Mine Trail toward Calistoga, or a 14-mile hike if you go there and back from Robert Lewis Stevenson Park on Highway 128 in Calistoga.  It's fairly strenuous and has no water (bring plenty in your pack) but you'll arrive to find extraordinary views of the valley from the south-facing summit.
Moore Creek Park is a newly opened county park in St. Helena near Lake Hennessy.  From the staging area you can choose from three trails: the Lake Hennessey Trail on the southwestern point is an easy slope that runs along the Lake for about six miles to Rossi Road in St. Helena. The Valentine Vista Trail (part of the Bay Area Ridge Trail network) on the southeastern point climbs up to provide great views of the valley. And the Moore Creek Trail runs about six miles to the northern end of the park property. It's very wild and thick with trees, with a creek pool at the end. The entire Moore Creek/Vista trail loop can be hiked in four to six hours, depending on your fitness level. It's fine for kids if they're used to hiking.
The Berryessa Peak Trail is a seven-mile trek that follows a creek and climbs the Blue Ridge in Napa and Yolo Counties. If you're up for the 3,000-foot elevation climb to Berryessa Peak, you'll be rewarded with the greatest possible views of Lake Berryessa and Napa County.  Eric calls this "the closest that Napa gets to a Pacific Coast Trail experience." Because it's quite strenuous, with no available water, he strongly advises not to try hiking this trail in the warmer summer months.
For less rigorous hiking, go to Bothe State Park in Calistoga. There's a wonderful network of trails for all levels, including the Ritchey Creek Trail and the Redwood Trail, with some valley views from the west. This park is also equipped for camping, picnicking, and even has a nice swimming pool, so it's a perfect family outing.
For any of these trails, be sure to come prepared with proper shoes, hats, sunscreen and water. Now, go take a hike!