10 Reasons to Attend the 2017 Napa Valley Film Festival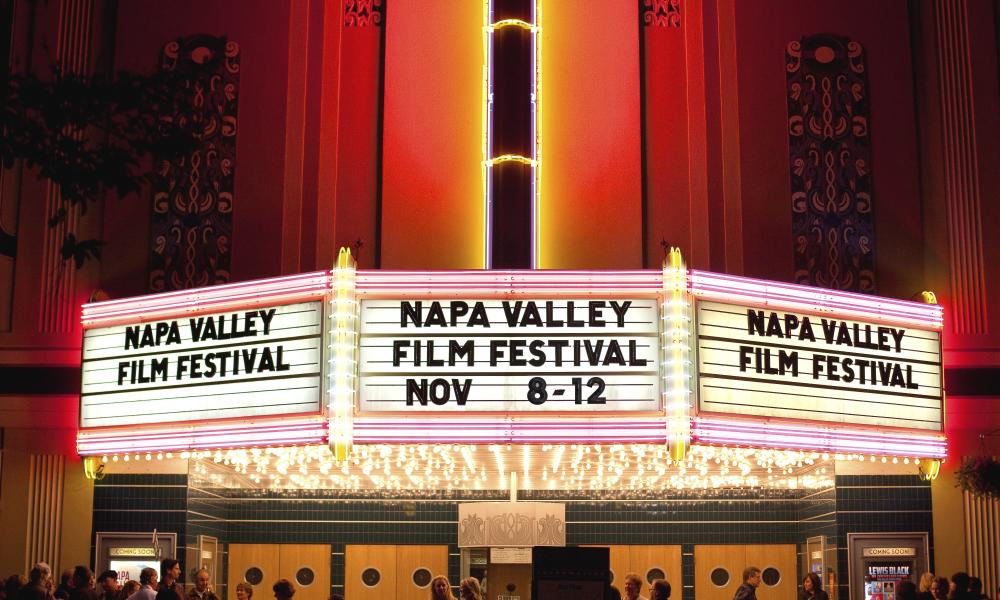 1. SUPPORT THE COMMUNITY
Despite the recent fires in the North Bay, the Napa Valley Film Festival is going on as scheduled. Festival organizers wish to create a chance to come together and experience the beauty of what can happen when people work together and celebrate community. NVFF is donating 10% of any pass purchased to the Napa Valley Community Foundation disaster relief funds.
2. EXPERIENCE A TOP 50 WORLD DESTINATION IN A WHOLE NEW WAY
In The New York Times "52 Places to Go in 2017," Napa Valley was named #35 as a top destination in the world. NVFF offers special opportunities to experience the wine, food, beautiful scenery and unparalleled hospitality. And now we have a world-class film festival to enjoy along with all the bounty that the Valley is known for.
3. MEET THE INDIE FILMMAKERS AND ACTORS AND HEAR THEIR STORIES
300 visiting filmmakers are attending and are eager to meet NVFF's appreciative audiences at Q&As after each movie and all of the festival special events. Walk around Napa, Yountville or St. Helena and you might glimpse sight of the many actors coming this year: Will Ferrell, Nancy Meyers, Ian Somerhalder, Nikki Reed, Michael Shannon, Michael Stuhlbarg, Alex Wolff, Odeya Rush, Austin Stowell, Ana de Armas, Elijah Wood, Jason Ritter, David Arquette, Jim Rash, Sasha Alexander, Judy Greer, Nat Faxon, Lea Thompson, Zoey Deutch, Thomas Middleditch, Eric Stoltz, Mackenzie Davis, Haley Joel Osment, Dash Mihok, Lou Diamond Phillips, Giancarlo Esposito, Tate Donovan, and more!
4. CATCH AWARDS SEASON FILMS BEFORE THEY HIT THE THEATERS
We predict Oscar nominations for these NVFF17 selections: Call Me by Your Name (meet director Luca Guadagnino and star Michael Stuhlbarg at the Q&A), and Guillermo del Toro's The Shape of Water (with powerful performances by the aforementioned Stuhlbarg and the multitalented Michael Shannon), and Molly's Game (directed by Aaron Sorkin, and starring Jessica Chastain, Idris Elba and Kevin Costner).
5. THE CELEBRITY TRIBUTES THURSDAY, NOVEMBER 9:
Get in on the intimate conversations between Access Hollywood's Natalie Morales and this year's Tribute Honorees: Charles Krug Legendary Filmmaker Nancy Meyers (the most successful female director of all time); Raymond Vineyards Trailblazer Michael Shannon; Spotlight Tribute Michael Stuhlbarg; and Jameson Animal Rescue Ranch Humanitarians Ian Somerhalder and Nikki Reed. MORE LAUGHS: And on Friday, November 11, NVFF presents the Caldwell Vineyard Maverick Tribute to Will Ferrell, and audiences will be treated to a sure-to-be hilarious on-stage discussion with the actor.
6. BECAUSE YOU LOVE FOOD AND COOKING
It wouldn't be right to have a film festival in Napa Valley, and not show off all of the great food and wine that have brought this region its international acclaim. Only at a festival in Napa Valley can one attend cooking demonstrations presented by NVFF17 filmmakers and chefs who collaborate on dishes and share samples with the audiences!  Entertaining, educational and delicious.
7. IT'S EASY TO FESTIVAL
This year NVFF offers more pass types than ever before and there is truly something for everyone, making it easy to create your own experience based on time, interests and budget. Choose from 5-day immersive passes (pass for the film aficionado, and the pass with the parties); Weekend Passes, Day Passes or join the Patron Circle for the ultimate VIP treatment and access. Advance tickets to select individual screenings as well as special event tickets are also available.  And for those on the run, who just want to catch a film, there are $10-$20 rush tickets at the theatres if seats are still available.
8. THE PARTIES!!
NVFF and the people who live in or love to visit the Valley like to have a good time. And dress up sometimes! We celebrate the Valley all throughout the week, at special events - that showcase the best wine, food, cocktails, music and entertainment - including the Opening Night party; VIP receptions and filmmaker/winemaker dinners; the Friday Night Martin Bash; the extraordinary Festival Gala; and the Closing Night Wrap Party. More opportunities for festival attendees to meet the filmmakers. And more opportunities to create new and lasting memories.
9. TASTE A LOT - A LOT - OF HIGH END WINES EVERY AFTERNOON AND ENJOY THE MUSIC!
NVFF's afternoon wine experiences connect passholders with the Valley's vintners, when several wineries pour different varietals all in one place at one time, offering attendees the perfect opportunity to sample Napa Valley wines without the hassle of driving, making appointments and shelling out tasting fees. Take a break from watching films to learn more about the wine and listen to musicians from all over the Bay Area.
10. AND THERE'S THAT APP
NVFF is happy to announce a new NVFF17 mobile app for Apple and Android users, allowing attendees the ability to see the full program and create customized schedules. Yes, there is planning involved, which makes the festival experience all the more fun and rewarding in the end.
Purchase your tickets here. See you at the movies...!